1st Earl of Pembroke
Greetings and Welcome
to all who visit Eclectic Knights.

The title of this site is taken from my different interests,
which are very eclectic to say the least.

The information you will find on these web pages is collected from various places and, in many cases, is backed by historical and/or current scientific facts. Some other information comes from respected philologus articles & opinions, as well as my own opinions of various matters.

In life one must: Battle On...
Code of Chivalary
Thou shalt believe all that Church teaches,
and shalt observe all ts directions.

Thou shalt defend the Church.

Thou shalt respect all weaknesses,
and shalt constitute thyself the defender of them.

Thou shalt love the country in which thou was born.

Thou shalt not recoil before the enemy.

Thou shalt make war against the Infidel without cessation,
and without mercy.

Thou shalt perform scrupulously the feudal duties,
if they be not contrary to the laws of God.

Thou shalt be generous, and give largesse to everyone.

Thou shalt be everywhere and always champion of the Right, and the Good against injustice and Evil.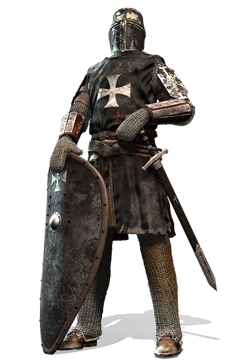 William Marshal
1st Earl of Pembroke

William Marshal, 1st earl of Pembroke, also called William the Marshal, (born c. 1146—died May 14, 1219, Caversham, Berkshire, England), marshal and then regent of England who served four English monarchs—Henry II, Richard I, John, and Henry III—as a royal adviser and agent and as a warrior of outstanding prowess.

Marshal's father, John (FitzGilbert) the Marshal (died 1165), fought for the empress Matilda (widow of the German emperor Henry V and daughter of Henry I of England) in her unsuccessful struggle to gain the throne of her cousin King Stephen (reigned 1135–54). After proving his bravery in warfare and in tournaments, Marshal became a guardian (1170) to Prince Henry, eldest son of King Henry II (reigned 1154–89). In 1187, four years after the prince's death, Marshal reentered Henry II's service and fought beside him in France until the king died in 1189.

Upon the accession of Henry's third son, Richard I the Lion-Heart (reigned 1189–99), Marshal married Isabel, the heiress of Richard FitzGilbert (or de Clare), earl of Pembroke, thereby acquiring vast estates in England, Normandy, Wales, and Ireland. Richard set forth on a Crusade in 1190, leaving William Longchamp in charge of the kingdom. In the following year Pembroke joined the opposition that drove Longchamp into exile. While Richard was held captive in Germany (1192–94), Pembroke struggled to prevent the king's brother, John, from seizing power in England.

Upon the death of Richard I in 1199, Pembroke helped John succeed peacefully to the throne; he was formally recognized as earl of Pembroke. By 1213 he had become the king's closest adviser, and he remained loyal to John during the disputes with the barons that led to the issuing of the charter of liberties known as Magna Carta (June 1215). John died during the ensuing civil war with the barons, who had invited Louis of France (later King Louis VIII) to be their king. Designated rector regis et regni ("governor of the king and of the kingdom") for John's son, King Henry III, Pembroke defeated the English barons and French invaders and in September 1217 concluded a treaty with Louis that wisely granted amnesty to the rebellious barons.
William Marshal Images